Post by ltdan on Apr 28, 2020 22:20:37 GMT
(Warning: This is will only work with the 2019/2020 16-inch Macbooks, using the built-in display, and not an external monitor)

So Apple included secret, alternative refresh rates for the 16-inch MacBook Pro, catering to the needs of video professionals. It turns out these refresh rates (specifically 48 Hertz) are perfect for reducing throttle in most games.
Here's how to enable these refresh rates in both macOS and Windows (Bootcamp).
How to enable in macOS:
1. Go to System Preferences and click on the Display preference pane.
2. Hold down the Option key while pressing the "Scaled" checkbox.
3. Select the refresh rate you want from the pull-down menu.
That's it for macOS!
How to enable in Windows:
In Windows, the refresh rates don't exist yet, so we have to create some custom resolutions with an EDID tool such as CRU.
1. Download CRU (Custom Resolution Utility) and extract the folder to the desktop.
2. Open CRU, and click Add to create a new resolution.
3. Let's change the default settings to allow for 48 hertz. Make sure you input these numbers exactly, or your screen will look like garbage!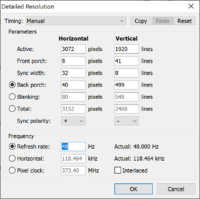 4. Press OK.
5. Press OK again, and confirm all dialogues to exit CRU.
6. Open the "restart" application included with CRU. This will restart your display drivers.
7. Now, it's time to check / switch to the new 48 hertz settings. Right click or control click on the desktop, and select "Display settings".
8. Go to "Display adapter properties for Display 1"
9. Click on "List All Modes"
10. Select your new resolution at 48 hertz, and Press OK.
That's it for Windows!
Why 48hz? Why not 50hz?


48 hz will boost your GPU efficiency by 25%
50 hz will boost your GPU efficiency by 20%.
If you really want to game at 50 hertz, you can create another custom resolution with CRU, with the following settings:
This is not a screenshot of CRU, but these same settings apply for 50 hz.
Repeat steps 4-10.
Closing comments:
These refresh rates work best with games that are framerate independent (such as the Tomb Raider reboots, Overwatch) and will let you select the refresh rate from within the game options when set to Fullscreen Mode.
It works even better with games that support motion blur, as it will feel virtually identical to 60 hertz. Some games (like Doom Eternal), do not respond well to refresh rates under 60 fps, so keep that in mind!
Don't forget to turn on V-SYNC wherever possible.
Game on, Mac Boys!