Post by neimos on May 21, 2020 18:20:35 GMT
First, I would like to thank Matt about this website and all his efforts. I found this website while looking for drivers and it helped me a lot so far.
I have a 16inch 5500m base model that comes with i9-9880H. I have used this computer so far with almost no throttling noticeable until summer is here. (Btw I am in London, so it is only 25 degrees.) Now I am facing with hardcore throttling that is giving me a headache. I want to describe it maybe some of you might help me with that.
For the ones that do not want to read in detail the summary is as follows: I can not run CPU at 2.8-3.2GHz and GPU at 600-800MHz. I think it is quite conservative and with playing tools I achieve those numerical values, however after 10 minutes BD PROCHOT becomes full red and CPU falls down to 800MHz gradually and unless I leave the game or alt+tab - I am stuck with it. I know I can turn off BD PROCHOT on throttleStop but I do not want to damage the computer/void warranty. So how can I solve this? Do you have an idea what is causing it.
So for the other ones that explains what I have been through in this process is as follows:
I play Apex Legends (Currently max fps is limited to 60fps with a command line argument)- which I had pretty decent frame rates around 70 fps in winter (at the time it was not limited) with January Red drivers (currently that's what I am using - April drivers crushed on mine as most other people's). Something has changed or maybe the temperature in the room causing it but I can not get around 35-40fps. That drop let me to investigate what is happening. So steps I followed were:
I installed Mac Fans Control - ThrottleStop - MSI Afterburner - MorePowerTool - GPU-Z - CRU (restart64.exe) and Intel power gadget.
When you are reading all these, think that Mac Fans control are always on Full Blast. (I tried left and right sensors CPU & GPU and the other way around. I am charging on the right btw - as I read some kernel stuff)
Initial things I noticed that looked weird to me:
MSI afterburner - All VRAM temperatures show 0C. Is there a VRAM sensor on Macbook Pro? Looks like it but mine shows 0 degrees. However, mac diagnostics show no error.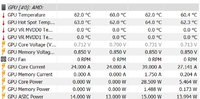 ThrottleStop - Limits - Core and Ring always show EDP other yellow and blinking red (which means being triggered actively) - I don't have to play games at all. It is the idle status. If you disable the turbo, I don't see any errors. Googled some answers and people say it is a thing with laptops so I ignored that bit. If you would like to comment on those, I would appreciate.
So initally, when I set MSI afterburner I saw that my GPU was never on full on mode. Even though CPU clock speeds were ok, GPU was operating at max 500 MHz usually at 300 MHz. CPU was heating up of course with Turbo and hitting up to 4.2Mhz and throttling began to gradually decrease the clock speed of the CPU. So I thought this was my problem.
Next Stage of debugging involved ThrottleStop:
Using TPL and Speedshift options. First time I opened it Turbo Boost Long Power Long was 100 Short was 125 with a turbo limit of 28s. PP0 current limit was 130. Hence, when I did 1024M stress test, I always saw Thermal yellow blinking up which made sense as these values were way too large. Therefore, I have changed them as shown in one other video that has been posted here down to 45,45, 0.001 and 45 respectively. Anyway, with also speedshift enabled in the TPL section and on the main page set to 32. I achieved 2.5GHz on full load with CPU Utilization 100% temperature is around 82 degrees and 36 Watt of Power. I can go slightly more aggressive, but all I want is stability.
Then I used GPU-Z dump my BIOS settings into a file open them in MorePowerTool. Changed them first as according to one guy Kutuzen (If I don't misremember his name), tried it and it failed. Then reloaded my BIOS settings and just lowered the frequency section with max sections GFX and SoC to 900 and min to 600. Ran the game and it goes really smooth at start after 10 minutes CPU speed starts to throttle slowly in gradual decrease by 100Mhz. Then once I hit 1000MHz- 1500MHz then suddenly we hit to 800 MHz and at that time I know I have hit BD PROCHOT which shows red in the limits section of the Throttlestop.
Also during the game my frequency is not stable as I am doing the stress test of the throttle stop. CPU freq usually jumps between these numbers 2400-2900-3400MHz. Temperatures are in the 80-85 degrees with these settings both with CPU and GPU. I assume maybe GPU is throttling and sending a signal to the CPU or VRAM or I don't know voltage regulators but something is doing it and I can not prevent it.
Also another throttling that I noticed is: all of these happen if I disable Turbo boost. This time there is no BD PROCHOT hapenning, but the frequencies go down to 1300-1500 MHz range gradually for the CPU and the GPU sits at 300-400-500 MHz max.
I am quite stuck to be honest and I would appreciate your comments. I feel like I sorted out CPU throttling in a way but I don't know how to come with a stable system. I would be even happy not to have a TURBO boost but a stable system performance.
Thanks all